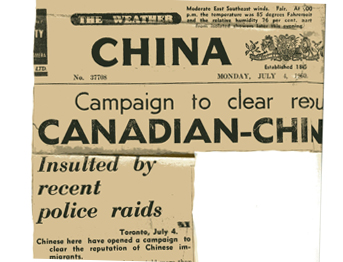 Scrapbook clipping of the RCMP investigation, as covered in Hong Kong press, 1960. Courtesy of Ruth Lor Malloy.
RCMP investigation into immigration profiteering (May 24, 1960–1962)
The Royal Canadian Mounted Police (RCMP) and the Hong Kong police worked together on a 907–day investigation into illegal immigration from China. An RCMP report by Commission C.W. Harvison, presented to the House of Commons by Member of Parliament Jack Pickersgill, stated that 11,000 of Canada's 23,000 post–1947 Chinese immigrants entered the country using false identification documents. Leaders from the Chinese Canadian community disputed this number, and objected to the RCMP's tactics in conducting the investigation. Many Chinese Canadians felt harassed as part of the investigation that resulted in only twenty–eight charges.