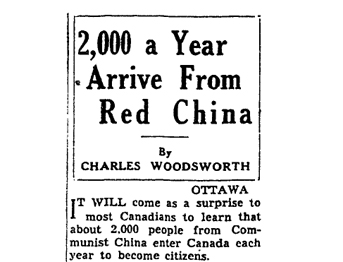 '2,000 a Year Arrive From Red China,' Courtesy of the Toronto Star, Saturday June 25, 1955, p. 6.
Family reunification (1957–1966)
In 1941, an estimated 20,141 Chinese Canadian families lived apart, with husbands in Canada and wives in China. With the repeal of The Chinese Immigration Act, 1923 in 1947, Chinese people who had obtained Canadian citizenship were able to act as immigration sponsors. Family reunification through sponsorship was, however, slow to start, since most Chinese immigrants were not naturalized as Canadian citizens, and many family members in China did not meet the strict eligibility requirements for sponsorship from Asia. It was not until after 1957, when regulations affecting the Chinese were loosened, that the number of separated families dropped considerably. By 1971, only 1,558 families were living apart.