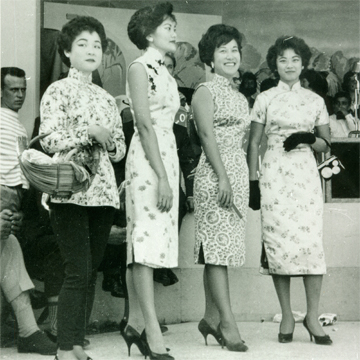 Kim Lee, Ethelyn Soo, Rose Quan and Shirley Hune model in the Chinese Canadian Association's fashion show at an Italian community centre, c. 1960s. Multicultural History Society of Ontario, Marg Ko Collection, G–2–11a.
'An incredible sense of family and social responsibility'
Between 1923 and 1967, Chinese Canadian women regularly balanced Chinese and Canadian influences. Their stories reveal a common interest in contributing to their communities and their families in positive ways. Like many others, the Chinese Canadian women profiled here shaped their surroundings during that period and beyond. They established the groundwork for subsequent generations of Chinese Canadians to build strong families and communities.
Listen to Germaine Wong's thoughts on the Chinese Canadian women that preceded her.
click for summary