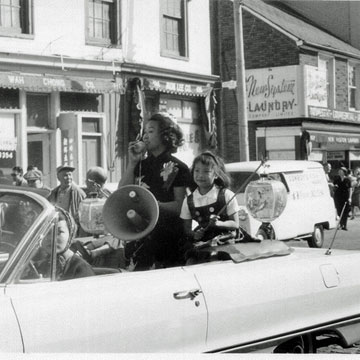 Jean Lumb and her daughter campaigning to preserve Chinatown, Toronto, Ontario, c. 1967. Multicultural History Society of Ontario, Jean Lumb Collection.
'Save Chinatown' campaigns
When Chinatowns across the country were being demolished and re–developed in the 1960s and 1970s, thousands of Chinese Canadians, like Mary Lee Chan and her daughter Shirley, voiced their opposition. Shirley Chan defended Chinese neighbourhoods in Vancouver, British Columbia against urban renewal plans in order to protect her parents and elderly neighbours from financial and emotional devastation. She and her mother joined the Strathcona Property Owners and Tenants Association (S.P.O.T.A.), which lobbied to save Vancouver's Chinatown and nearby Strathcona neighbourhood from redevelopment. The city's plans required the relocation of many Chinese families from Strathcona, cutting them off from the services and community they sought in Chinatown. After years of work, S.P.O.T.A. was successful in changing the city's development plan.
Listen to Shirley Chan describe her involvement in a campaign to preserve Vancouver's Chinatown.
click for summary