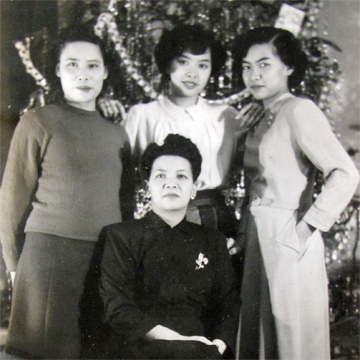 Agnes Lor and her daughters May, Alice and Ruth celebrate Christmas, Brockville, Ontario, c. 1945. Courtesy of Ruth Lor Malloy.
'One foot Canadian, one foot Chinese': Family and Community
Canadian culture is constantly being modified and renewed through the practices and traditions of successive waves of immigration. Though few in number, the Chinese women who made Canada their home in the period from 1923 to 1967 contributed to the ever–changing Canadian cultural landscape. This exhibit explores these women's experiences of family and community, demonstrating their contribution to our common Canadian heritage.
Listen to Janet Lee explain how her mother felt the influence of both Chinese and Canadian gender roles.
click for summary